Alquimia Research Center
is a group instance for
Asmodian
players of level 35 and above. Hidden deep within the mountains surrounding the
Alquimia Stronghold
, this somewhat obscure
Lepharist
facility has been rumored to conduct secret experiments on
Humans
, seeking to create
Daevas
. It can be accessed from the
Alquimia Stronghold
in
Beluslan
, and is part of the campaign quest line.
Walkthrough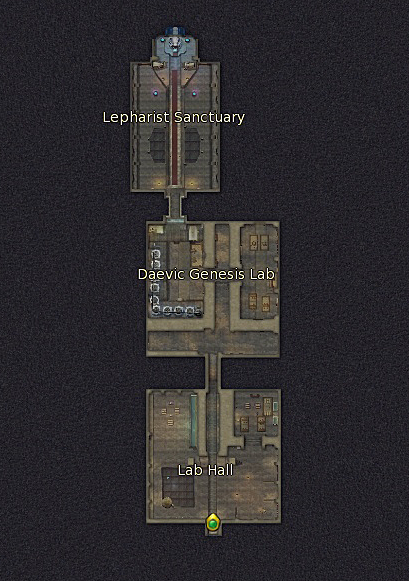 Getting to the instance can be a challenge itself, as it is numerous
Lepharists
patrol the nearby vicinity. Upon entering, the room appears crowded with multiple patrols. Careful and well-timed pulls will be needed to avoid chain-aggro and gradually create some space.
The first key keeper,
Researcher Zoiks
, can be found on the left side of the
Lab Hall
. Clear mobs to get to him and vanquish him in battle to obtain the
Daevic Genesis Lab Key
. Clear the nearby right side mobs as well before heading into the tunnel in the center. The tunnel will have several invisible patrols stationed in it, so caution is advised.
At the intersection before the
Daevic Genesis Lab
the player may opt to check both sides for possible rare named NPC spawns. Continue down the center path, into the Lab, until the next intersection. Locate
Key Protector Nimue
, who holds the
Lepharist Sanctuary Key
. Head back to the intersection, and take path ahead deeper into the
Daevic Genesis Lab
.
To your left you will spot the
Research Center Power Generator
, which can be destroyed by ranged DPS for the quest
A Spy Among the Lepharists
. All dps will only hit for 1HP. The campaign will update, but the
flare
can be set off after finishing the instance. Check for a rare spawn in the corner test tube
RA-121ex
who has a chance to drop level 44 green weapons.
Clear the room to the door to the core of the instance, the
Lepharist Sanctuary
. It is possible to sneak around the side of the mobs, although killing through the middle is another option. Work towards the end of the room. 
High Priest Esras
is a straight-forward 'tank and spank'.
(Remember to set off the flare upon exiting the instance.)
Permissions in this forum:
You
cannot
reply to topics in this forum